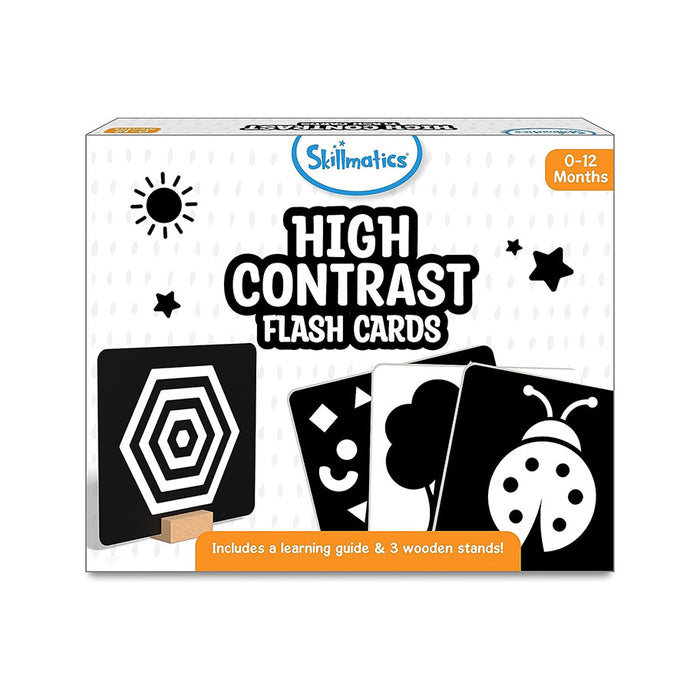 Flash Cards for Babies & Infants - High Contrast
Original price
$20.00
-
Original price
$20.00
LEARNING TOOLS FOR BABIES 0 TO 12 MONTHS: Designed by educators, our Black and White, High-Contrast cards include 60 images ranging from simple shapes to more complex patterns and objects to meet your baby's developing vision.

VISUAL STIMULATION & SENSORY DEVELOPMENT: Our High-Contrast Flash Cards are designed to stimulate your baby's developing brain and vision in their first year. Begin with holding simple shapes for the early months, then prop the cards up on our 3 wooden stands for a stimulating tummy time. As baby grows, they can hold the durable cards independently and explore early object recognition and vocabulary.

INCLUDES: Each set includes 30 double-sided Flash Cards, learning guide & 3 wooden stands which hold the cards up, especially during tummy time.

PERFECTLY SIZED FOR SMALL HANDS: Our cards are 5.1 inches tall and 5.9 inches wide making them easy to hold and use.

30 THICK AND STURDY DOUBLE-SIDED CARDS: The flash cards are made of a thick material that allows for long-lasting use. The cards are sturdy & non-bendable, making them very durable for infants.

SAFE & NON-TOXIC: Skillmatics Flash Cards are recyclable, anti-glare, and safety tested for infants.

PERFECT BABY SHOWER GIFT: Our High-Contrast Flash Cards are an ideal baby shower gift to stimulate brain development, neck and back strength during tummy time, and vocabulary development as baby grows more curious about the world around them.